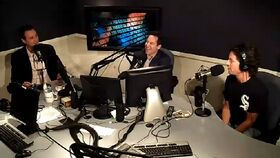 The Red Eye Podcasts were produced from March 29 to August 22, 2011 but were not mentioned on the show until April 7. A new podcast premiered each week day and episodes generally ran about 12-15 minutes. The podcasts were hosted by Greg Gutfeld and also featured Andy Levy and Bill Schulz. If anyone was absent, Tom O'Connor would fill the void. In instances where Greg could not attend, Andy assumed hosting duties.
During each podcast, Greg, Andy and Bill would discuss odd events that took place the previous evening, the previous day's Red Eye show and other such topics; they would also plug the guests that would be on Red Eye that night.
Towards the end of the run, Greg Gutfeld began referring to himself and the other two as the Podcats. Willie Sanchez, who produced the podcasts, took various instances of Greg saying "podcats," autotuned them and fashioned a jingle that could be heard at the beginning of most podcasts from thereon out; this was introduced on August 10. The song was released as a ringtone download the next day.
Two additional podcasts were produced on April 4 & 5, 2012. These were hosted by Bill Schulz and also featured Tom O'Connor and Lauren Sivan, who was in New York visiting from Los Angeles and the title Not LIVE! With Lauren & Bill was established on the second podcast. They're continuing to produce them with Sivan phoning in from L.A., one new show per week.
External Links
Edit