Male Time


Debut
2007
Last Appearance
April, 2012
Male Time was the viewer mail segment on Red Eye. In this segment, host Greg Gutfeld would read e-mails sent in by fans on the air and respond to them. Very rarely were Gutfeld's replies to be taken seriously, and often they would end with Gutfeld telling the writer that he has "banged [the viewer's] mom." Gutfeld also would often intentionally mispronounce the city from which the e-mail was sent.
Male Time was used quite a lot during its run on the show, showing up about twice a week; it was a companion segment to Messages For Greg, which was also used about twice a week. About March, 2011, both segments began to appear less frequently as in the past and they both disappeared shortly there after. Male Time was brought back briefly in April of 2012, but was used only two or three times before being retired for good.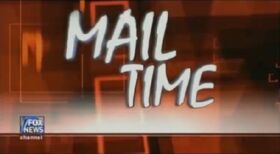 Male Time has actually had three different titles. It was originally known as Viewer Mail when it debuted early in the show's run and did not have a title card. Later on, it was retitled Male Time; its title card featured chiseled men, with host Greg Gutfeld always saying something like "The packages have arrived! Just put them out back." He eventually grew tired of this schtick and this title was used for the lat time on September 28, 2009. The next viewer mail segment two days later featured a new title card was renamed Mail Time, which was used until the segment disappeared. When the segment reappeared in 2012, the Male Time title was reinstated.
Ad blocker interference detected!
Wikia is a free-to-use site that makes money from advertising. We have a modified experience for viewers using ad blockers

Wikia is not accessible if you've made further modifications. Remove the custom ad blocker rule(s) and the page will load as expected.