John Bolton


Full Name
John Robert Bolton
Birthdate
November 20, 1948
Birthplace
Baltimore, Maryland
Occupation
Political Commentator
First Appearance
August 6, 2009
IMDb Page
link
Twitter
@AmbJohnBolton
John Bolton is a U.S. diplomat and attorney who was the United State's 25th Ambassador to the United Nations. He also makes occasional appearances on Red Eye and regularly appears on other Fox News shows as a political commentator.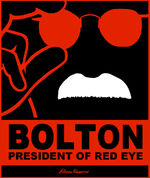 Recently, he's been on
Red Eye
much more often than in the past. On December 5, 2012,
Greg Gutfeld
dubbed him "The President of
Red Eye
." On March 20, 2013, Bolton delivered a
State of the Show Address
at the top of the episode. This idea came from an offhand comment Bolton made the previous week.
External Links
Edit