Greg-Alogue


Debut
February 5, 2007
Last Appearance
April 16, 2013
The Greg-Alogue was a frequent segment on Red Eye, appearing on just about every episode; occasionally, two Greg-Alogues were given on the same show. This basically was host Greg Gutfeld's showcase, where he would talk about and analyze a story in depth. He would end each Greg-Alogue with: "And if you disagree with me, you're worse than Hitler," or "And if you disagree with me you're probably a racist." The latter eventually morphed into "And if you disagree with me you're a racist homophobe."
For a time, after a Greg-Aloguge, sidekick Bill Schulz would offer a rebuttal called a Bill-A-Buster. This practice ceased some time in 2008.
The Greg-Aloguge abruptly disappeared in August, 2011 with the advent of The Five; it returned for two more appearances in October and once more on February 13, 2012.
A special Greg-Alogue was presented on April 16, 2013 at the very top of the show, replacing the Pregame Report, where Gutfeld spoke of the previous day's terrorist attack at the Boston Marathon. The intro graphic was not used in this case, as the show took a serious tone.
Guest Host Spin-Offs
Edit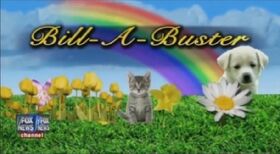 Schulz' monologue when he guest hosted was also called a Bill-A-Buster and used the same intro sequence.
Andy Levy presented his first Andy-Gram on June 13, 2011. He ended his monologue with: "And if you disagree with me, that's cool." He gave his second Andy-Gram on May 31, 2012 and another on June 12, 2013. His three subjects were Congressman Anthony Weiner, New York Mayor Michael Bloomberg's large soda ban & a New York Times op-ed on Edward Snowden.
Jim Norton guest hosted on June 21 & August 23, 2010 and presented his version, Reportin' Norton. The intro graphic featured a bunch of still photos of Norton doing stand up comedy while the words "Reportin' Norton" appeared on the screen.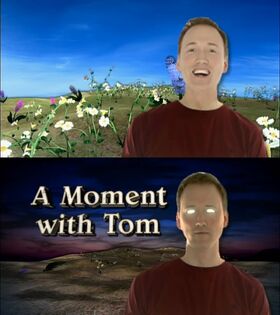 Tom Shillue's monologue is called A Moment With Tom and has also been delivered frequently, the first being January 15, 2013. This intro graphic is very similar to the final Greg-Alogue graphic. It features a picture of Shillue smiling against a meadow while a creepy version of "Turkey in the Straw" plays. The flowers die, a different picture of Shillue appears with the eyes removed while the final note of the first stanza of the song is removed in favor of an ominous-sounding low note.