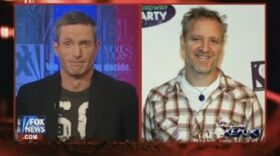 The Chris Barron Incident occurred on April 6, 2011.
During the second block of that night's Red Eye episode, Mick Foley asked Chris Barron about a Spin Doctors song, calling it his "biggest song," mistaking Barron for the like-named singer of the aforementioned band. Nobody understood what Foley was talking about and Barron looked at Foley like he was from another planet. Foley then asked Barron, "You're not the guy I think you are?" To which Barron answered a matter-of-fact "No." Foley then asked, "You're not the lead signer for the Spin Doctors?" To which Barron provided the same answer.
After a couple of seconds, Bill Schulz came to the realization that the two share a name. Barron then said, "Do we look anything alike?!"
Schulz called this "an amazing moment," and host Greg Gutfeld concurred, saying "That has to be one of the greatest moments of all time," prompting Barron to say, "This is great for everyone but me." He carried on for a little while longer, to laughter from the others at the table. This was voted the third best moment of 2011 in a fan poll.
In the next day's podcast, Gutfeld & Andy Levy shared that Barron was upset by this incident -- Andy went so far as to say that "he was pissed" -- but also that he was the one who made the segment work.
It turns out that Foley had researched the other two panelists on that evening's show, but did not find the correct Chris Barron. Incidentally, both were making their third appearance. While Barron continues on as a regular guest panelist, this was Foley's final episode.
External Links
Edit